Effective Date: March 17, 2020
Look on social media for active PridePays contests in your area.
By participating you help promote awareness of PridePays and that means causes and communities win. Be sure to read the official rules.
Please read these Terms of Use ("Terms", "Terms of Use") carefully before using the PridePays.com website and the PridePays mobile application (the "Service") operated by PridePays.
Don't worry, there are no terms or cancellation fees. You won't pay any more each month than you do already, and you will be making a huge difference for a deserving cause.
Your access to and use of the Service is conditioned on your acceptance of and compliance with these Terms. These Terms apply to all visitors, users and others who access or use the Service.
By accessing or using the Service you agree to be bound by these Terms. If you disagree with any part of the terms, then you may not access the Service.
Termination
PridePays may terminate or suspend access to the Service immediately, without prior notice or liability, for any reason whatsoever, including without limitation if you breach the Terms.
All provisions of the Terms which by their nature should survive termination shall survive termination, including, without limitation, ownership provisions, warranty disclaimers, indemnity and limitations of liability.
Content
Our Service allows you to post, link, store, share and otherwise make available certain information, text, graphics, videos, or other material ("Content"). You are responsible for the content you post.
Links to Other Web Sites
Our Service may contain links to third-party web sites or services that are not owned or controlled by PridePays.
PridePays has no control over, and assumes no responsibility for, the content, privacy policies, or practices of any third-party web sites or services. You further acknowledge and agree that PridePays shall not be responsible or liable, directly or indirectly, for any damage or loss caused or alleged to be caused by or in connection with use of or reliance on any such content, goods or services available on or through any such web sites or services.
Warranty disclaimers
The content and the services are provided on an "as is" and "as available" basis without warranties of any kind, either express or implied. PridePays disclaims all warranties, express or implied, including, without limitation, implied warranties of merchantability, fitness for a particular purpose, title and non-infringement as to the information, content, or materials.
PridePays is not responsible for errors or omissions in any information or materials accessed through the services, the site, or any other part of the service. While PridePays attempts to make your access and use of the services safe, PridePays cannot and does not represent or warrant that the services or its server(s), or any content or materials are free of viruses or other harmful components; therefore, you should use industry-recognized software to detect and neutralize viruses, spyware, malware, and other harmful or otherwise undesirable components from any download. PridePays makes no warranties regarding security or reliability of the services.
Limitation of liability
In no event shall PridePays or any of its corporate affiliates, independent contractors, service providers, or consultants, or any of their respective directors, employees, and agents, be liable for any special, indirect, consequential, or punitive damages, including but not limited to, loss of use, loss of opportunity, loss of profits, or loss of data, whether in an action in contract, tort (including but not limited to negligence) or otherwise, arising out of or in any way related to or connected with any use of the services, the content, or the materials contained in or accessed through the services, including without limitation any loss, damages, or injury caused by or resulting from reliance on any information obtained from PridePays, or that result from mistakes, omissions, interruptions, errors, defects, viruses, delays in operation, or transmission or any failure of performance, whether or not resulting from acts of God, communications failure, theft, destruction, or unauthorized access to PridePays' records, programs, or services. The aggregate liability of PridePays, whether in contract, warranty, tort (including negligence, whether active, passive, or imputed), product liability, strict liability, or other theory, arising out of or relating in any manner to the use of the services, shall not exceed any compensation you paid, if any, to PridePays for access to or use of the services during the year preceding the act or omission out of which such liability arose.
PridePays makes no warranties regarding security or reliability of the services.
If you are a California resident, you hereby waive California civil code section 1542, which states "a general release does not extend to claims that the creditor or releasing party does not know or suspect to exist in his or her favor at the time of executing the release and that, if known by him or her, would have materially affected his or her settlement with the debtor or released party" or other like provisions of similar import."
Changes
PridePays reserves the right, at our sole discretion, to modify or replace these Terms at any time. If a revision is material, PridePays will try to provide at least 15days' notice prior to any new terms taking effect. What constitutes a material change will be determined at our sole discretion.
Contacting Us
If you have any questions about these Terms, you may contact us using the information below.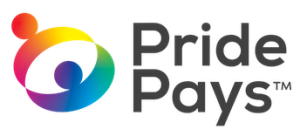 2450 33rd Ave W. Suite 110
Seattle, WA 98199 United States
info@pridepays.com
888-888-4128