⁠Transform lives
with every transaction
⁠Ambassadors make it happen
⁠Transform lives with every transaction
⁠Ambassadors
make it happen
Help your community
Spread the word
–make a difference
"I love telling businesses about this amazing opportunity whenever I am out in the community."
– Marella M. Kirkland, WA 
"…whenever I find a business that cares about the LGBTQ+ community I mention this free way they can help. They are always thrilled to learn how (they) can do more"
– Fernamdo S. Palm Springs, CA
"My partner and I like to compete to see who is making the biggest impact. We love the encouragement of our monthly impact reports."
– Dani F. Boston, MA
"I work for a cause that benifits from PridePays, so of course I spread the word as an ambassador whenever I can."
– Tia L. Jamaica Plaines, NY
"As a business owner, why would you not do this?"
– Vu N. San Francisco, CA
"I don't have a lot of money to give, but I have time, and I love talking to people. Spreading the word is easy for me and getting a monthly update on the impact I am having feels really good."
– Erik A. Miami, FL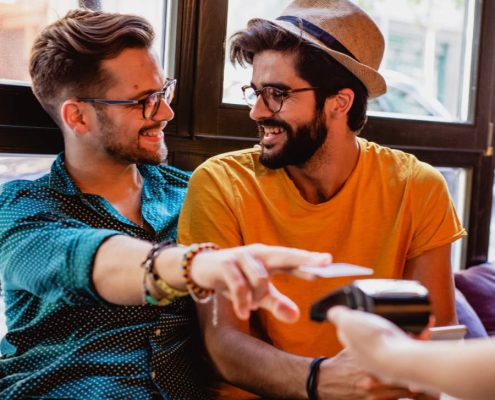 PridePays ambassadors are heroes. As an ambassador you motivate your community to make an impact. When you increase consumer awareness and merchant participation your community and the cause you advocate for will benefit for years to come.
You can have a huge impact
By spreading the word about the benefits of PridePays and encouraging merchants to take part Ambassadors' efforts pay off for causes and communities.
It is a fulfilling role where your participation adds up to meaningful change over time. Complete the information below to start making a difference.